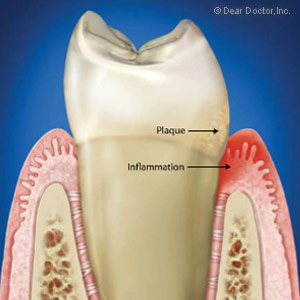 If you're over thirty, you have a fifty-fifty chance of contracting gum disease and your odds worsen as you get older. But your fate isn't sealed, especially if you know what to do to prevent this harmful disease.
But before we discuss your prevention strategy, let's look first at oral bacteria, the basic cause for gum disease. Although most bacterial strains in your mouth are benign or even beneficial, a few can infect your gums. And, the more of them there are in your mouth, the higher your risk for infection.
These bacteria multiply with the help of a sticky biofilm called dental plaque, providing them a ready source of food and shelter. Plaque and its hardened form tartar accumulate daily on dental surfaces, particularly if you don't practice daily brushing and flossing.
Once a gum infection begins, the body unleashes an inflammatory response to isolate the infected tissues from healthy ones. As a result, the gums can become swollen and reddened, and may easily bleed. If you see signs like these, you should seek treatment as soon as possible to stop the infection's advance.
And, advance it will, spreading ever deeper into the gums until it threatens the supporting bone. At this point, with the gums becoming detached from the teeth and the bone compromised, the affected teeth could be in imminent danger of loss.
These basic disease processes underscore the importance of one thing—the daily removal of bacterial plaque through brushing and flossing. The bacteria that cause disease don't thrive well in an environment devoid of plaque.
But even if you're diligent about your hygiene, you may still miss some plaque; this can then calcify into tartar, which is likely impossible to remove with brushing and flossing. That's why you need dental cleanings at least every six months to remove stubborn tartar and any lingering plaque.
Regular dental visits also increase your chances of early gum disease detection. The earlier we're able to diagnose and start treating an infection, the better the outcome.
Gum disease can begin and advance quickly, sometimes without you noticing. But daily brushing and flossing, regular dental cleanings and prompt attention at the first sign of trouble can help you stay ahead of this harmful disease.
If you would like more information on preventing gum disease, please contact us or schedule an appointment for a consultation. You can also learn more about this topic by reading the Dear Doctor magazine article "How Gum Disease Gets Started."