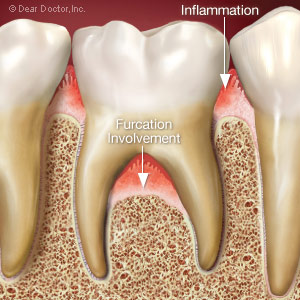 Periodontal (gum) disease may begin superficially, but it can eventually work its way deeper below the gums to become a threat to the teeth and the underlying bone. The tooth roots are especially vulnerable to the disease with long-lasting implications to the tooth's survival.
An infection usually begins with dental plaque, a thin biofilm on tooth surfaces that harbor the bacteria that cause gum disease. The infection may eventually reach an area around the tooth roots called a furcation, where the roots branch off from the main tooth body. If the disease gains a foothold in a furcation, it could seriously erode the infected bone structure.
This often occurs in stages, commonly classified as early, moderate or advanced ("through and through"). In the first stage, the infected area exposes a slight groove in the tooth, but no significant structural loss. The next stage shows bone loss of at least two millimeters. In the most advanced stage, the bone loss now extends all the way beneath the tooth from one side to the other.
As with any situation caused by gum disease, it's best to catch a furcation involvement early and initiate treatment. As with any case of gum disease, the objective is to remove accumulated plaque and tartar (hardened plaque), which both fuel the infection. With plaque removed, the periodontal tissues can begin to heal and possibly regenerate.
It can be hard to achieve these outcomes because furcations are difficult to access. Although we may be able to clean the roots with tools like scalers (curettes) or ultrasonic equipment, we might still need to surgically access the area to completely remove the infection.
Initial treatment of furcations is often only the beginning. Someone with this level of gum disease usually needs continuous, heightened dental care and maintenance to prevent reinfection, often by an experienced hygienist working in consultation with a periodontist (gum specialist). It's also common to surgically alter the tissues around a furcation to make them easier to inspect and clean.
The best scenario, of course, is to avoid an infection altogether, or at least diagnose it before it becomes this advanced. The best way to stay gum (and tooth) healthy is to be sure you brush and floss every day, and see your dentist for cleanings and checkups at least twice a year.
If you would like more information on treating furcations, please contact us or schedule an appointment for a consultation. You can also learn more about this topic by reading the Dear Doctor magazine article "What are Furcations?"