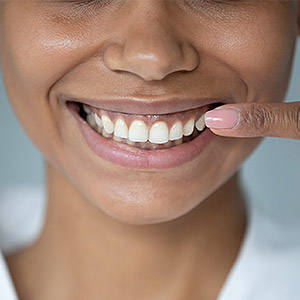 You know what people say: "Protect your tooth enamel, and it will protect your teeth." Then again, maybe you've never heard anyone say that—but it's still true. Super strong enamel protects teeth from oral threats that have the potential to do them in.
Unfortunately, holding the title of "Hardest substance in the human body" doesn't make enamel indestructible. It's especially threatened by oral acid, which can soften its mineral content and lead to erosion.
That doesn't have to happen. Here are 5 things you can do to protect your enamel—and your teeth.
Don't brush too often. Brushing is essential for removing bacterial plaque, the main cause for dental disease. But more isn't always good—brushing too frequently can wear down enamel (and damage your gums, too). So, limit daily brushing to no more than twice a day.
Don't brush too soon. Oral acid normally peaks at mealtime, which can put your enamel into a softer than normal state. No worries, though, because saliva neutralizes acid within about an hour. But brushing before saliva finishes rebuffering could cause tiny bits of softened enamel to flake off—so, wait an hour after eating to brush.
Stop eating—right before turning in for the night, that is. Because saliva flow drops significantly during sleep, the decreased saliva may struggle to buffer acid from that late night snack. To avoid this situation, end your eating or snacking at least an hour before bedtime.
Increase your calcium. This essential mineral that helps us maintain strong bones and teeth can also help our enamel remineralize faster after acid contact. Be sure, then, to include calcium-rich foods and calcium-fortified beverages in your diet.
Limit acidic beverages. Many sodas, sports and energy drinks are high in acid, which can skew your mouth's normal pH. Go with low-acidic beverages like milk or water, or limit acidic drinks to mealtimes when saliva flows more freely. Also, consider using a straw while drinking acidic beverages to lessen their contact with teeth.
Remember, enamel isn't a renewable resource—once it's gone, it's gone. Take care of your enamel, then, so it will continue to take care of you!
If you would like more information on caring for your tooth enamel, please contact us or schedule an appointment for a consultation. You can also learn more about this topic by reading the Dear Doctor magazine article "6 Tips to Help Prevent the Erosion of Tooth Enamel."