My Blog
Posts for: February, 2021
By The Cosmetic and Implant Dental Center
February 19, 2021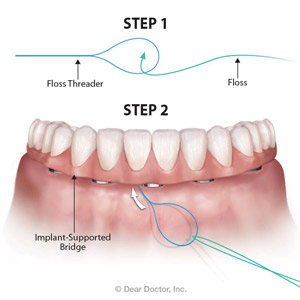 In recent years, dental implants have helped traditional bridgework take a giant leap forward. A few strategically placed implants can provide the highest support and stability we can currently achieve for this well-known dental restoration.
Implants derive this stability from the bone in which they're imbedded. Once surgically installed, the bone around a metal implant begins to grow and adhere to its titanium surface. Over time, this creates a strong anchor that firmly holds the implant in place.
But the implants' stability can be threatened if the gums around them become diseased. Gum disease, a bacterial infection caused mainly by dental plaque, can advance silently below the gum surface until it ultimately infects the bone. This can cause significant bone loss around an implant, which can weaken it to the point of failure.
To avoid this scenario, it's important to prevent gum disease by flossing daily to remove accumulated dental plaque between the implant-supported bridge and the gums, particularly around the implants. This kind of flossing around bridgework is more difficult than flossing between teeth, but it can be done with the help of a device called a floss threader.
A floss threader is a small plastic hand tool with a loop on one end and a stiffened edge on the other (similar to a sewing needle). You begin by threading about 18" of dental floss through the loop, and then work the other end of the threader between the bridge and gums to the other side.
With the floss threaded between the bridge and gums, you can now remove it from the threader, grasp each end, and floss around the sides of each implant you can reach. You'll then need to repeat the process by removing the floss, rethreading it in the threader and inserting it into the next section between implants, continuing to floss until you've accessed each side of each implant.
You can also use pre-packaged floss thread sections with a stiffened end to facilitate threading. But whichever product you use, it's important to perform this task each day to prevent a gum infection that could rob you of your implant-supported bridge.
If you would like more information on oral hygiene practices with dental work, please contact us or schedule an appointment for a consultation. You can also learn more about this topic by reading the Dear Doctor magazine article "Oral Hygiene for Fixed Bridgework."
By The Cosmetic and Implant Dental Center
February 09, 2021

Dental implants are a reliable way to replace teeth. More than 95% of implants survive ten years after their installation, and many of these could conceivably continue for decades.
But that still leaves a tiny few that don't reach the ten-year mark. Some fail early because the implant didn't integrate fully with the bone to create a durable hold. But others fail later—usually for one of two major causes.
Some failures occur due to over-stressing of the implant from abnormally high biting forces, usually because of teeth grinding. People who have this involuntary habit generate excessive force as they grind their teeth, which can damage implants (as well as natural teeth). To reduce this force, a patient's dentist can fit them with a biteguard they wear in the mouth to prevent teeth from making solid contact with each other during a grinding episode.
Fortunately, teeth grinding isn't that prevalent among adults—but that can't be said about the other major cause for implant failure: periodontal (gum) disease. This is a bacterial infection caused by dental plaque, a thin, bacterial film that accumulates on teeth. The implant itself isn't affected by the infection, but the gums and underlying bone supporting the implant can be.
Implants are most in peril from a form of gum disease called Peri-implantitis, which spreads deeper into the gum tissues around implants faster than infections around natural teeth. That's because implants lack the gum attachment of real teeth, which supply a collagen barrier that slows the spread of infection. Peri-implantitis can quickly infect the supporting bone and eventually weaken its connection with the implant.
Because of its aggressiveness and speed, we must diagnose and treat peri-implantitis as soon as possible to limit any damage to the support structures around an implant. If you notice any swollen, reddened or bleeding gums, you should call your dentist as soon as possible for an examination.
And in light of this potential danger to your implants, you should also strive to prevent gum disease through daily oral hygiene. Brushing and flossing your teeth, including around your implants, removes harmful plaque buildup. This daily habit and regular dental cleanings will help you avoid a costly gum infection and ensure your implants are there for years to come.
If you would like more information on dental implants, please contact us or schedule an appointment for a consultation. You can also learn more about this topic by reading the Dear Doctor magazine article "Dental Implants: A Tooth-Replacement Method That Rarely Fails."