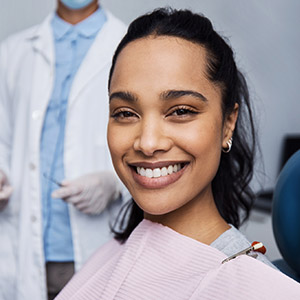 Modern dental restorations are not only more life-like than past generations, but also more durable. Today's fillings, crowns and bridges can last for years or even decades.
But that doesn't mean you can set them and forget them—they all require some level of maintenance and care. Here are 3 common restorations and what you need to do to make them last.
Fillings. Whether traditional dental amalgam ("silver") or tooth-colored composites, fillings today are incredibly strong and durable. But they do have one point of vulnerability, especially larger ones—the seam where the filling material meets the natural tooth. Bacteria tend to build up along this seam, which could lead to decay and the formation of a new cavity that weakens the filling. To avoid this, be sure you're brushing and flossing everyday and seeing your dentist at least twice a year.
Veneers. Dentists bond these thin shells of tooth-colored porcelain over the visible surface of teeth to hide chips, stains or other blemishes. But although the bonding agents we use create an incredibly strong hold, the bond between the veneer and tooth could weaken when subjected to higher than normal biting forces produced by nail-biting, ice-chewing or a tooth grinding habit. If you have such a habit, see your dentist about ways to minimize it and protect your veneers.
Bridges. Traditional bridges consist of an array of artificial crowns with those in the middle substituting for the missing teeth, while those on the end attach to the natural teeth on either side of the gap to support the bridge. Bridges can also be supported by dental implants. In either case, tooth decay or gum disease could undermine the natural teeth or bone supporting a bridge. To avoid a bridge failure, keep the areas around supporting teeth or implants clean and regularly checked by a dentist.
Above all, the danger dental disease poses to natural tissues also threatens the restorations that depend on them. Keeping your mouth free of disease is your best strategy for ensuring your dental work enjoys a long, functional life.
If you would like more information on protecting your dental work, please contact us or schedule an appointment for a consultation. You can also learn more about this topic by reading the Dear Doctor magazine article "Extending the Life of Your Dental Work."