My Blog
Posts for tag: root canal treatment
By The Cosmetic and Implant Dental Center
June 28, 2019
Dental implants have soared in popularity thanks to their life-likeness, functionality and durability. But these prized qualities have also created an ironic downside—people are much more likely to replace a tooth with an implant rather than go through the time and effort to preserve it.
We say downside because even though an implant is as close to a real tooth as we can now achieve in dentistry, it still can't rival the real thing. It's usually in your long-term health interest to save a tooth if reasonably possible. And, there are effective ways to do so.
Most dental problems arise from two common oral diseases. One is tooth decay, caused by contact with acid produced by bacteria living in dental plaque. We can often minimize the damage by treating the early cavities decay can create. But if we don't treat it in time, the decay can advance into the tooth's pulp chamber, putting the tooth in danger of loss.
We can intervene, though, using root canal therapy, in which we drill into the tooth to access its interior. We clean out the decayed tooth structure, remove the diseased pulp tissue and fill the empty chamber and root canals to seal the tooth and later crown it to further protect it from re-infection.
Periodontal (gum) disease also begins with bacteria, but in this case the infection is in the gum tissues. Over time the ensuing inflammation locks into battle with the plaque-fueled infection. This stalemate ultimately weakens gum attachment, the roots and supporting bone that can also increases risk for tooth loss.
We can stop a gum infection through a variety of techniques, all following a similar principle—completely removing any accumulated plaque and tartar from the teeth and gums. This stops the infection and starts the process of gum and bone healing.
You should be under no illusions that either of these approaches will be easy. Advanced tooth decay can be complex and often require the skills of an endodontist (a specialist in root canals). Likewise, gum disease may require surgical intervention. But even with these difficulties, it's usually worth it to your dental health to consider saving your tooth first before you replace it with an implant.
If you would like more information on how best to treat a problem tooth, please contact us or schedule an appointment for a consultation. You can also learn more about this topic by reading the Dear Doctor magazine article "Save a Tooth or Get an Implant?"
By The Cosmetic and Implant Dental Center
October 11, 2018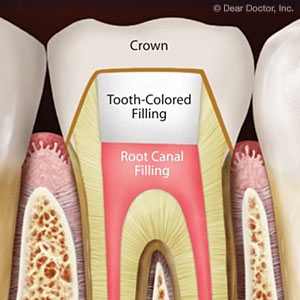 A tooth with deep decay is in real peril. If the disease isn't stopped, it can eventually infect the bone and greatly increase the risk of losing the tooth. But tooth decay removal and a root canal treatment can stop advancing decay and resulting infection in its tracks.
During this common procedure we first drill into the tooth to access the inner pulp. After removing the infected pulp tissue, we disinfect and fill the empty chamber and root canals with gutta percha. We then seal the tooth and crown it to protect against re-infection.
But while most root canals are successful and long-lasting, sometimes the tooth becomes re-infected. Here are 3 factors that could affect the long-term success of a root canal treatment.
Early treatment. Like many health problems, the sooner we detect decay and treat it, the better the outcome. A tooth in which the infection has already advanced beyond the pulp is at greater risk for re-infection than one in which the infection is localized in the pulp. Keeping up your regular dental visits as well as seeing the dentist at the first sign of abnormality—spots on the teeth or pain—can increase your chances of early diagnosis.
Tooth complications. Front teeth with their single roots and canals are much easier to access and treat than a back molar with an intricate root canal network. Root canals can also be extremely narrow making them easy to miss during treatment. In cases like this the expertise and advanced equipment of an endodontist (a specialist in root canal treatment) could help increase the odds of success in complex situations.
The aging process. Teeth do wear over time and become more brittle, making them increasingly susceptible to fracture. A previous root canal treatment on an aging tooth might also increase the fracture risk. To avoid this, it's important for the tooth to receive a crown after the procedure to protect the tooth not only from re-infection but undue stress during chewing. In some situations, we may also need to place a post with a bonded composite buildup within the tooth to give it extra support.
Even if a tooth has these or similar complications, a root canal treatment may still be advisable. The benefits for preserving a decayed tooth often far outweigh the risks of re-infection.
If you would like more information on root canal treatments, please contact us or schedule an appointment for a consultation. You can also learn more about this topic by reading the Dear Doctor magazine article "Root Canal Treatment."
By The Cosmetic and Implant Dental Center
January 21, 2018
Along with the gums, your teeth's roots help stabilize them. Without them your teeth couldn't handle the normal biting forces you encounter every day. That's why a rare condition called root resorption must be treated promptly: this gradual breakdown and dissolving of root structure could eventually cause you to lose your tooth.
Resorption is normal in primary ("baby") teeth giving way for permanent teeth or sometimes during orthodontic treatment. But the form of resorption we're referring to in permanent teeth isn't normal, and is highly destructive.
The condition begins in most cases outside the tooth and works its way in, usually at the gum line around the cervical or "neck-like" region of the tooth (hence the term external cervical resorption or ECR). ECR produces pink spots on the teeth in its early stages: these are spots of weakened enamel filled with pink-colored cells that cause the actual damage. The cells create cavity-like areas that can continue to enlarge.
We don't fully understand what causes ECR, but there seems to be links with excessive force during orthodontics, tooth trauma (especially to the gum ligaments), tooth grinding habits or internal bleaching procedures. However, most people with these problems don't develop ECR, so the exact mechanism remains a bit of a mystery.
The good news, though, is that we can treat ECR effectively, provided we discover it before it inflicts too much damage. That's why regular dental visits are important, coupled with your own observation of anything out of the ordinary and immediate dental follow-up.
If the affected area is relatively small, we may be able to remove the cells causing the damage and repair the area with a tooth-colored filling. If it appears the pulp (the tooth's innermost layer) is involved, we may need to perform a root canal treatment to remove infected tissue and fill the empty space with a special filling. You may also need other procedures to reduce the chances of gum recession around the affected tooth.
Proactive dental care is your best insurance against losing a tooth to root resorption. So keep an eye on your teeth and see your dentist regularly to keep your teeth and gums healthy.
If you would like more information on the signs and treatments for root resorption, please contact us or schedule an appointment for a consultation. You can also learn more about this topic by reading the Dear Doctor magazine article "Root Resorption: An Unusual Phenomenon."