My Blog
Posts for tag: dental implant
By The Cosmetic and Implant Dental Center
August 01, 2020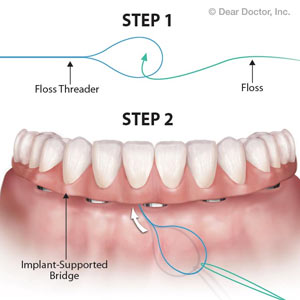 Losing your teeth can be a traumatic experience with serious consequences for your overall health. Fortunately, you have great options for replacing lost teeth that can restore both appearance and dental function.
One such option is a fixed bridge supported by dental implants. While implants are best known for single tooth replacement, they can also be used with other restorations like bridges. In this case, the bridge is screwed into a few well-placed implants to support it.
Implants can provide bridges with more security and support, and without the need to alter adjacent teeth that are commonly used for traditional tooth replacement. They may also slow or stop bone loss because the titanium in implants naturally attracts bone cells that grow and adhere to its surface and provide stimulation to the bone cells during function.
Because of these benefits an implant-supported bridge could be a life-changer that provides years of satisfaction. But we can't simply "set them and forget them": They require dedicated oral hygiene just like natural teeth.
While the bridge materials and implants themselves are in no danger from disease, the same can't be said for the implant's supporting gums and bone. Dental plaque, the main driver in gum disease, can place these tissues at risk for infection that could eventually lead to implant failure.
It's important, then, for you to floss around your new implants to remove any plaque. This differs from regular flossing in which you work the thread between teeth. Instead, you'll have to maneuver the floss between the bridge and gums with the help of a floss threader, a small slender tool with a loop at one end and a stiffer plastic edge at the other (similar to a sewing needle).
To use it, first run 18" of floss through the loop until you get equal lengths and then work the tail of the floss threader between the bridge and gums while holding one end of the floss. Once through, you pull the floss threader through so that the floss is on either side of the bridge. Then grab each end of the floss and pull it snug to floss up and down one side of the implant. Go to the next side and repeat this procedure for all the implants.
As an alternative, you could use an oral irrigator, which emits a pulsating spray of water to loosen and wash away plaque. Either way, though, it's important to floss around implants to get the most life out of your bridge.
If you would like more information on proper care for implant-supported restorations, please contact us or schedule an appointment for a consultation. You can also learn more about this topic by reading the Dear Doctor magazine article "Oral Hygiene for Fixed Bridgework."
By The Cosmetic and Implant Dental Center
June 18, 2019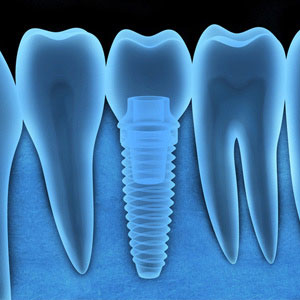 If you know anyone with a dental implant, you may know it can be a long process in getting one. Several weeks or months can pass between removing the old tooth and placing the implant, and then several more weeks before affixing the permanent crown.
But with recent advances in implant technology, some patients don't have to wait as long for a new implant and crown. In fact, one procedure commonly known as "tooth in one day," allows patients to walk in with a problem tooth and out the same day with a new "one."
Not every implant patient, however, can undergo this accelerated procedure. If you're considering implants, the state of your bone health will determine whether or not you can.
Implants need a certain amount of available bone for proper placement. But bone loss, a common consequence of missing teeth or dental disease, can reduce bone volume to less than what's needed to place an implant. The patient may first need to undergo grafting to regenerate the bone or choose another restorative option.
If your supporting bone is sound, your dentist might then proceed with the implant. But you will still have to wait a while for your new crown. The implant needs to integrate with the bone to improve its hold. This integration process can take anywhere from a minimum of six weeks to more commonly twelve weeks. After the attachment is mature, the dentist may need to undo the gum covering before taking impressions for the formation of the new crown.
But it is possible to have a tooth or teeth in a day. For a single tooth, your dentist may be able to immediately attach a crown right after implant surgery if the implant is very stable. Even so, this crown will need to be temporary, slightly shorter than a permanent crown so that it won't make contact with other teeth and put too much pressure on the new implant. After further healing from bone integration, impressions will be taken so that you'll receive your permanent crown shortly.
Immediate crown placement can allow you to have the cosmetic and limited functional benefit of a new tooth right from the start. If multiple implants are placed in one arch in a day, it's possible to have immediate teeth if enough implants are attached together with a temporary restoration.
This is different from a single implant replacing a single tooth and does create confusion for patients when they read about teeth in a day. Regardless, no final tooth crown can be placed at the time of an implant—only a temporary restoration.
If you would like more information on your options for dental implants, please contact us or schedule an appointment for a consultation. You can also learn more about this topic by reading the Dear Doctor magazine article "Same-Day Tooth Replacement with Dental Implants."
By The Cosmetic and Implant Dental Center
May 19, 2019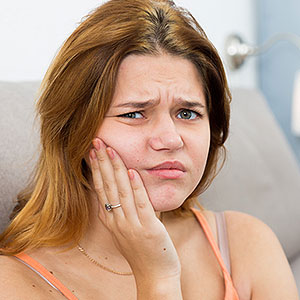 Losing a tooth can be traumatic, but a dental implant can dramatically turn that experience around. Providing functionality, life-like appearance and durability, implants stand out as the premier restoration for lost teeth.
For adults, that is. An older child or teenager with a missing tooth may need to wait a few more years for an implant. The reason: jaw development. A person's jaws, particular the upper jaw, continue to grow with most growth completed by early adulthood. Natural teeth with their periodontal attachments develop right alongside the jaw.
But because an implant attaches directly to the jawbone, its position is fixed: it won't change as the jaw grows and may gradually appear to sink below the gum line. That's why we wait to place an implant until most of jaw maturity has occurred after full jaw maturity. For females, we try to wait until 20 years of age and for males, usually 21 years of age. These are guidelines as some people mature faster and some slower, so a discussion with your dentist or surgeon is necessary to make an educated decision.
While we wait, we can install a temporary replacement for a child's or teenager's lost tooth, usually a partial denture or fixed modified ("Maryland") bridge. The latter affixes a prosthetic (false) tooth in the missing tooth space by attaching it to the back of natural teeth on either side with bonded dental material. It differs from a traditional bridge in that these supporting teeth aren't permanently altered and crowned to support the bridge.
During the time before implants we should understand that the area where the implant will be placed will undergo some bone deterioration, a common consequence of missing teeth. Forces generated as we chew travel through the teeth to stimulate renewing bone growth all along the jawbone. But with a lost tooth the chewing stimulation ceases at that part of the bone, slowing the growth rate and leading to gradual bone loss.
Fortunately, the titanium posts of dental implants stimulate bone growth as bone cells naturally grow and adhere to their surfaces. Before then, though, if the bone volume is diminished, we may need to graft bone material to stimulate bone growth that will enlarge the jaw bone enough for an implant to be placed.
It usually isn't a question of "if" but "when" we can provide your child with an implant for their missing tooth. In the meantime, we can prepare for that day with a temporary restoration.
If you would like more information on dental restorations for teenagers, please contact us or schedule an appointment for a consultation. You can also learn more about this topic by reading the Dear Doctor magazine article "Dental Implants for Teenagers."